Making Continuous Tracks / Caterpillar Tracks
The Easy Way to make Caterpillar / Continuous / Tank Tracks at Home
Caterpillar tracks - continuous track - dozer tracks - tank tracks - whatever you call it, I've always had a fascination with it; that incredible ability to go places other vehicles can't go - massive grip and minimal ground pressure thanks to the large surface area of the track itself.
See the accompanying video here...
When I decided to have a go at making a fairly large model track (about 3ft / 1meter approx.), I was disappointed at the complexity of some designs I found, way beyond the limitations of my basic tools. This meant I had to come up with another method - an easy way to make caterpillar tracks.
FREE PLANS - DOWNLOAD HERE
I've created some free plans to go along with this build. They will allow you to print a sprocket template, provide you with measurements and list the materials required. I've done my best but I'm no engineer...
These files are just Zipped PDFs. But you'll need to download, unzip and read (and print) using Adobe Acrobat Reader.
There's a choice of two - one showing Inches and one showing Millimetres, show choose your preference.
Donations
If you find these plans helpful and would like to contribute towards the upkeep of my websites, etc (and help me fund a few new projects), then please click the donate button below. Payments are handled securely by PayPal. For more information on why I have this button, click here.
Inspiration
I believe in giving credit where it's due and my initial inspiration came from watching a video by Matthias Wandel on his excellent website. Have a look for yourself to see what I mean - woodgears.ca/tracked_vehicle
I loved Matthias' simple approach and even toyed with the idea of using wood myself. But I wanted something a little more robust so metal was my preference, though the idea of making all those complex joints terrified me. Steel would be incredibly resilient but hard to work, expensive and heavy, so I opted for aluminium.
Aluminium Profiles
The moment I started thinking about aluminium it occurred to me that there were all manner of profiles (shapes) available, including box section, L, U, T and all manner of other specialised shapes. Looking online at one particular website, I noted the dimensions of various profiles and had one of those Eureka moments. I headed off to the local DIY store and purchased some much smaller sections to produce this mock-up:

If you look closely you can see there's a series of rectangular pieces connected together with nuts and bolts. Crucially there's two sizes of U channel involved, one of which fits neatly inside the other. This meant it was possible to make a flexible metal chain using off-the-shelf supplies and ordinary tools.
I then went on to make this mock-up that might look a little more like continuous track:

This is, of course, just 2 links in a track of approximately 40 or more but it was simple engineering. Whilst it might look a little more complex, it's exactly the same. The only differences are the use of larger U channel and the addition of some L channel stock.
Continuous Track - What's Involved?
If you've watched Matthias' video (and you should) you'll see he constructed a wooden sprocket with teeth that bite into (and therefore drive) a wooden chain. Now look at this image of an actual track: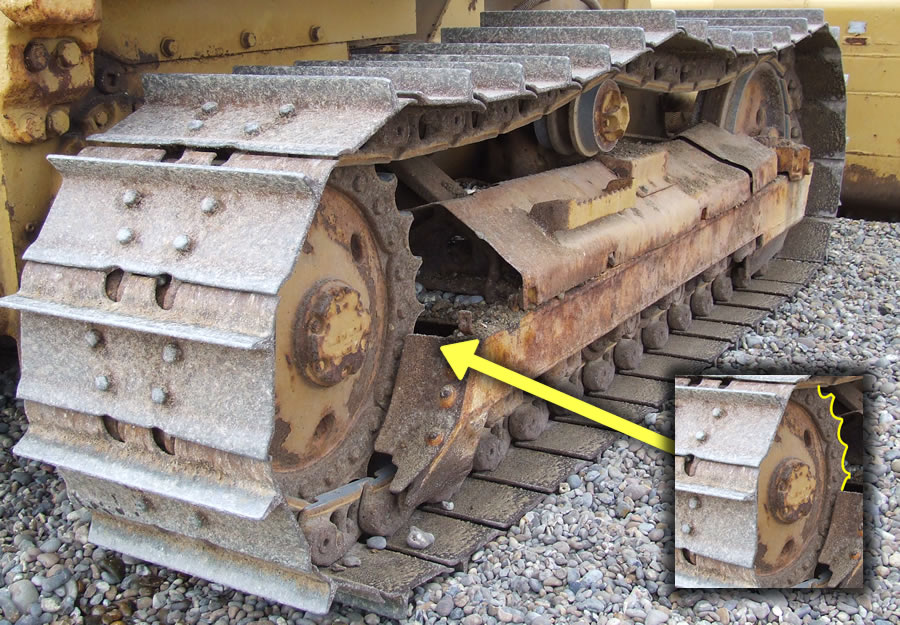 At the front left you can clearly see a large sprocket that Matthias cleverly emulated. Just like in Matthias' example, the teeth of the sprocket interact with the chain (the track) and propel the vehicle.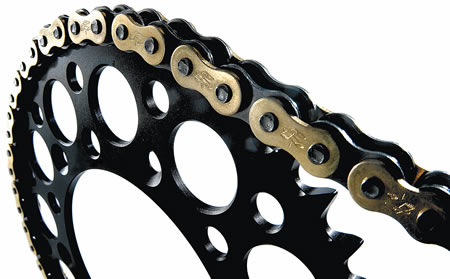 If you're thinking this is all new to you, some unknown alien technology, you'll be surprised how common the sprocket and chain combination is. How about an ordinary bicycle? The sprocket is the bit you pedal and the chain drives the wheel.
To produce something similar it's necessary to build two elements, a sprocket (the drive wheel) and a chain (the track). This would normally involve some complex machining, but thankfully there's an easier way.
Making A Chain By Combining Profiles
As I've already hinted at above, by carefully selecting profiles, I was able to purchase sections that would slot together to form a basic chain. If I haven't made this point clear enough until now, the chain and the track are the same thing, so in making a chain we're making a track.
I chose two U section profiles and critically the smaller fitted perfectly inside the larger. There are minor variances involved in manufacture but I reasoned that even a moderate amount of filing down would be easier than trying to cast or machine my own fittings and as it turned out I was right.
To add some width to the track I decided to incorporate two L sections. These come in a variety of sizes but I kept mine quite small.
The profiles are produced in long lengths and it's obviously necessary to cut these down into smaller section. The size of these smaller sections, the links in the chain, is determined by the sprocket.
Sprocket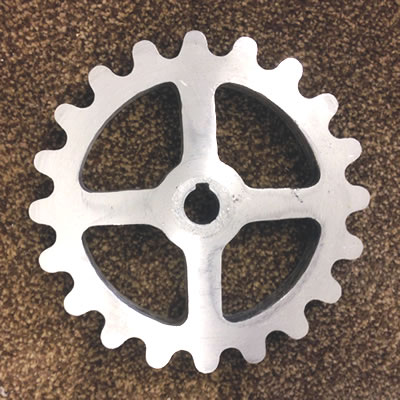 I wanted to make my sprocket from aluminium and I have already covered this in detail elsewhere on this website. For that you'll need to look at:
In short I took scrap aluminium in the form of ordinary soda cans and melted this down in my home made foundry to form ingots. I decided on the dimensions of my sprocket and created a wooden template. From there I was able to quickly reproduce copies of the sprocket made from Extruded Polystyrene Foam. Through lost foam casting, I was able to pour molten aluminium into a sand mould and convert the foam into a solid, usable sprocket - four of them in fact.
If the above sounds daunting to you, you really should look up the pages and videos I've suggested. Lost foam casting at home is remarkably easy and readily affordable. In many ways it's not much different to using an ordinary barbecue.
Sprocket Dimensions
The dimensions of the sprocket define everything that follows. There's four main factors that effect the overall size and shape of a sprocket. There's number of teeth, the diameter of the sprocket, the gap between the teeth (the link length in Matthias' program) and the diameter of the roller.
Sprocket chains generally incorporate a free-turning roller. If you go back to the images of my prototypes, you'll see I've used a let of washers. These make great, cheap but effective rollers.
I had two things in mind, the gap (which I wanted to be 25mm / 1 inch for simplicity) and the diameter that I wanted to be roughly between 150 & 200mm (6 and 8 inches). The roller size was the diameter of the washers I planned on using, this being 12mm (half and inch).
As I've mentioned elsewhere on this site, Matthias's excellent Sprocket & Gear program makes calculating all the factors involved extremely easy. I simply fed in these figures and it produced a sprocket diagram for me to print and build a template from. Brilliant!
The size of the gap is something you decide for yourself. I've shown this measurement as X in the image below and for me this measurement was exactly 25mm (1 inch), but that choice is yours.
On the right of the above image is a side view of a link (a piece of the U channel). You can see the relationship of the measurement X between the sprocket and the link. And this relationship has a direct effect upon the chain (track) itself:

Boring Maths Bit
To determine the size of the link we need to know:
X - the gap between the teeth of the sprocket
This is your choice - your personal preference
Y - the diameter of the holes drilled
Bolts will act as pivot points in the link so holes are required
Z - the amount of material to the edge
The larger the better as strength is needed to prevent the material ripping. But we're limited by the overall size of the links in the chain
So to calculate the overall length of a link we'd do the following:
Link Length = X + Y + 2Z
My X was 25mm (1 inch) as previously stated. My Y was 6mm (1/4 inch) as this is a nice bolt size, not too big and not too small - plus they're readily available. Z in many ways is as big as you can get away with whilst leaving space between the links for movement. I went with 7mm (1/4 inch). This meant my links were 25 + 6 + (2 x 7) = 45mm in length.